Young Children 4-5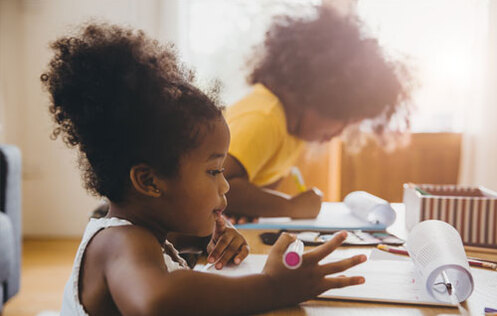 Kindergarten is right around the corner. How can you help your child get ready? Use these tips to help your child grow and develop at this important stage of life.
Look at the NC Pre-K program. Will your child be four years old by August 31st of next year? If you meet eligibility requirements, your child may be able to participate in the NC Pre-K program at no cost to you. This program offers high-quality educational experiences to help eligible four-year-olds get ready for kindergarten. Learn more.
Not eligible for NC Pre-K? Consider enrolling your child in preschool. Research shows preschool helps children get ready for school. Guilford County has many options: half-day care, full-day care, and some overnight options for parents who work third shift. Learn more about high-quality childhood programs.
Keep reading, talking, and singing with your child. You'll see lots of language development this year, including longer and more descriptive sentences. The more you read, talk, and sing together, the more skills and concepts he/she will grasp. Keep working on the ABCs, colors, and asking lots of questions about the world. Want some support? For more information and to connect with a Parent Educator, contact Parents as Teachers.
Simple Choices. Give your child simple choices like what to wear or what to eat for a snack. It builds confidence and can also stop tantrums in their tracks. Click here for more information.
Encourage questions, conversations, and new experiences. Young children ask so many questions. Answering may be tiring, but this is an important part of helping your child grow brain capacity. Local libraries have many free programs for young children that encourage creativity and learning. Check out the Greensboro, High Point, and Jamestown libraries.
Use encouraging words. Young children are eager to learn. Using harsh words and criticizing kids shuts them down. Watch this short video about using positive words with your child.
Help your child shape healthy behaviors. Your child is making more choices that could impact how he eats, sleeps, plays, and interacts with others. See how you can help your child develop healthy behaviors for a lifetime.
Learn about kindergarten options. See what's available in Guilford County.